Request Brochure
Please register to have our comprehensive brochure emailed to you. Program overview, admissions, scholarship, student life and more.
BACHELOR OF BUSINESS ADMINISTRATION IN INTERNATIONAL BUSINESS MANAGEMENT
With Dual Degree Option

IBM students at Stamford have the option to study a dual degree either at SolBridge International School of Business, South Korea or at Kendall College at National Louis University, Chicago, USA. Students who opt for this international pathway will have the chance to live in a city and a country that hosts many successful multinational companies, and will receive two degrees on graduation.
Studying your Bachelor's degree in two different countries and receiving a diploma from two prestigious universities will be your passport to a very successful and exciting career. Managers constantly look for employees who are able to adapt to different cultures and situations as no matter which industry you work in, globalization will be a significant influence.
For an International Business Management (IBM) student, the world has no borders. Where others see global challenges, as an IBM graduate you will see global opportunities, and you will know how to benefit from them.
In the IBM program, you will interconnect with passionate and knowledgeable teachers who have achieved success managing global businesses in many different countries across the globe. You'll acquire pure business knowledge and how to apply it by participating in real-world projects in cooperation with successful companies.
Specialized Certificates
We recognize that our students have different interests and we offer you two different fields to give you the opportunity to unleash your potential:
Do you want to become a global business leader? Then study the Leadership and Management, which gives you the knowledge and tools necessary to become a successful manager in a multinational company.
Are you interested in developing business relationships across the globe? Then choose our International Trade, where you will learn from the best about how to become successful doing business in different countries.
You will learn and develop skills in:
International Business
Entrepreneurship
Business Development
Cross Cultural Management
Business Analysis
Creating Innovative Business Opportunities
Delivering Confident Business Presentations
You will be able to:
Start your own business
Manage an international workforce
Launch new products in new markets and countries
Help expand a multi-national company
Initiate or growing a social enterprise
Grow your family business
Create sustainable business models
Key Information
| | |
| --- | --- |
| Program Start (Month) | March, July, November |
| Earliest Intake Date | November 2019 |
| Location | Rama 9 |
| Program Duration | 3.5 Years |
| Language | English, Bilingual |
A proven track record as an international manager in Europe and Asia, having held leadership positions in telecommunications, finance, and management consulting business in Sweden, China, and Japan. Holding a M.Sc. degree in Engineering Management and conducting doctoral research in International Marketing.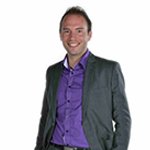 Carl R. Lindwall
Assistant Dean - Faculty of Business and Technology, Head of Management Programs