Request Brochure
Please register to have our comprehensive brochure emailed to you. Program overview, admissions, scholarship, student life and more.
BACHELOR OF BUSINESS ADMINISTRATION IN MARKETING
Dual Degree Program
Be successful as a marketer in any business! Studying marketing at STIU will enable you to master marketing strategies, data interpretation and integrated marketing communication planning. You will be job-ready in the highly in-demand marketing field.
Dual Degree Program
Stamford International University has a collaboration with the Lubin School of Business at Pace University, New York. This is a 2+1.5 year program where students can gain 2 degrees on graduation.
Students taking the International Pathway will study their first two years at STIU and then complete the rest of the program at the Lubin School of Business at Pace University, New York. Students will receive a BBA in Marketing from STIU and a BBA with a concentration in either Global Marketing Management or Advertising and Integrated Marketing Communication from the Lubin School of Business at Pace University.
Students taking the Domestic Pathway will get a BBA in Marketing from STIU, and a Pace Pathway Certificate.
Pace University is accredited by the prestigious AACSB and is among the top ranked private universities in USA. Pace has campuses in New York City and Westchester County, where 13,000 students study. Stamford students who study at Pace can choose either campus.
Students studying at Pace can work on-campus during their course of studies and also opt for an Internship after they finish their studies. They may also choose to work full time for 1 year under the Optional Practical Training (OPT) program. Students may receive a scholarship if they fulfil all requirements.
Specialized Certificates
At STIU, we offer three marketing specialized fields:
Digital Marketing Management
Digital Marketing is the "must-have-knowledge" of all successful businesses today. Courses like Social Media Marketing, Gamification and Big Data Management will prepare students to use high-level strategy and best practices to maximize online marketing, engagement and customer conversion. Students will have the opportunity to participate in special workshops to earn marketing certificates like Google Adwords and Analytics.
Retail is making huge waves in Thailand and all over the world. Courses like Fashion and Luxury Marketing, Retail Merchandising and Relationship Management and Negotiation will prepare students for big retailers like Central group, Mall group, Tesco Lotus, L'Oreal and many more. Students will also learn how to be an entrepreneur in retail.
Strategic Marketing Management
An exciting blend of courses like Product Portfolio and Pricing Management, Innovations in Marketing, Strategic Marketing, prepares the students for success in the fast changing world of business. The Program prepares students to be able to apply strategy and innovation in the marketing and business decision making.
You will learn and develop expertise in:
Interpersonal and Communication Skills
Commercial Awareness
Critical Thinking
Creativity
Teamwork and Leadership
Data Gathering and Analysis
Networking
Listening
Collaboration
Emotion Analysis
Information Technology
You will be able to master:
Global Marketing Strategies
Digital Marketing Strategies
Integrated Marketing Communication Plans
Analyzing Customer Needs and Market Trends
Data Interpretation
Problem Solving
Decision Making
Multiple Project Management
Holistic Approach
Persuasion and Negotiation
Key Information
| | |
| --- | --- |
| Program Start (Month) | March, July, November |
| Earliest Intake Date | November 2019 |
| Location | Hua Hin and Rama 9 (Dual Campus) |
| Program Duration | 3.5 Years |
| Language | Bilingual |
Double Master in Communications & Advertising and Business Administration
Over 9 years of experience in both marketing and sales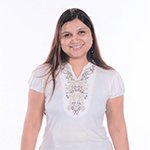 Shrimoyee Mukherjee
Director of Marketing Program