Request Brochure
Please register to have our comprehensive brochure emailed to you. Program overview, admissions, scholarship, student life and more.
BACHELOR OF ARTS IN ENGLISH (APPLIED GLOBAL COMMUNICATION)
Program Summary
English is the global language of business. Good English skills will open doors to unlimited opportunities and unlock career possibilities.
A Modern and Practical Arts Program
Get to experience the different applications of English in today's changing world by studying Applied Global Communication. Touch upon the traditional aspects of a BA in English – such as literature, poetry and drama – and also see the more modern applications of the English language in disciplines that have a global perspective.
21st Century Skills
Study in a programs that explicitly focuses on developing skills for success in the 21st Century. Learn to critically analyze and evaluate information, express yourself creatively, collaborate with others, and communicate effectively and with confidence.
Content and Language Integrated Learning (CLIL)
Learn subject matter while perfecting your language skills. The CLIL methodology helps students continuously improve their English through the study of content, and benefit from a highly sophisticated level of language proficiency upon graduation.
Key Information
| | |
| --- | --- |
| Program Start (Month) | March, July, November |
| Earliest Intake Date | November 2019 |
| Location | Hua Hin |
| Program Duration | 3.5 Years |
| Language | English, Bilingual |
Mr Dilon has a Master of Education (M.Ed.) in English Literature (British and Commonwealth). He has numerous years of experience in teaching and worked as a director of English program in a private school. He specializes in teaching English as a foreign language, history, linguistics, general education, and educational technologies.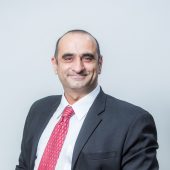 Cell Dilon
Associate Director of English Studies (Hua Hin Campus)